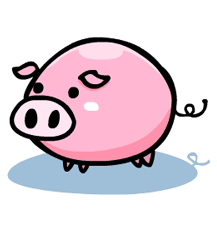 From the Huffington Post but by Reuters:
(Reuters) – A North Carolina man faces ethnic intimidation charges after leaving bacon at a mosque and making death threats to its members as they prepared for worship in observance of Ramadan, Islam's holy month, authorities said on Friday.

Russell Thomas Langford of Fayetteville was arrested late on Thursday, the Hoke County Sheriff's Office said. He is a major in the U.S. Army Reserve, WTVD-TV in Raleigh said, quoting officials at Fort Bragg military base in North Carolina.

On Thursday afternoon, members of the Masjid Al Madina in Raeford found two packages of bacon at the mosque entrance, the sheriff's office said.
A few years back in Texas, some neighbors, incensed at the idea of the freedom of religion in their neighborhood, decided to hold pig races. This provoked the following response from a representative of the mosque:
Muslims do not hate pigs. . . they just don't eat them.
Anyway, here's the good part of the current tale.
A Chevy Tahoe was in the parking lot when the bacon was found, and the driver of the Tahoe, later identified as Langford, followed one of the members home, the sheriff's statement said.

The suspect returned in the evening, showed a gun to one of the members, a retired Army captain and Muslim chaplain at Fort Bragg, and threatened to kill him, according to a report by WRAL-TV in Raleigh, N.C.

The chaplain invited him inside to talk, but the man left, the report said. Later, the man returned in his SUV and tried to run over a group of people who were going inside the mosque for evening Ramadan prayers, the report said.
He invited him in to talk.